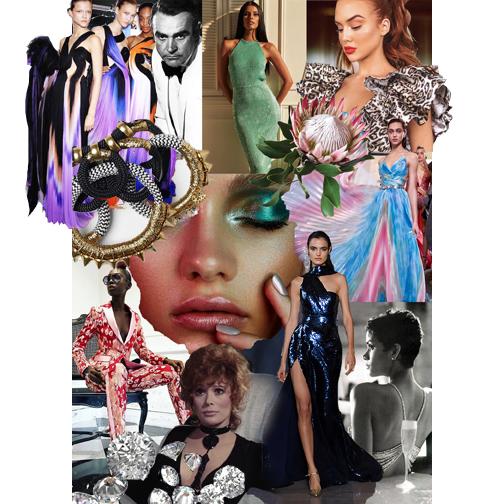 It is said that diamonds are forever, but this year's Diamonds Are Forever charity gala is one night only.
In welcoming international guests of honor, the South African Polo Team with James Bond savoire faire, it's no surprise that this year's black-tie affair holds the most captivating and avant-garde theme yet. That's why we've thrown together an overview of fashion tips and trends that will leave you feeling confident, intrigued, and excited to challenge your creativity.
Inspired by the 1971 James Bond film, Diamonds Are Forever, the gala espouses the international mystique and glamor of secret agent series while giving nod to the Rainbow Nation - South Africa - a melting pot of peoples, wonders of nature and cultural evolution. The country's aesthetic emanates from diverse nationalities and ethnic groups that create a spectrum of unique art and culture. From its exotic animal kingdom to its hidden troves of precious stones and metals, artisanal textiles and craft, we come to its alter to pay homage.
And of course, let's not forget the James Bond component to the night. If you're not familiar with the seventh film, or most importantly, the final appearance of star Sean Connery in the hit series, this chapter is resplendent in diamonds, heroes, arch enemies and a handful of Bond Girls in '70s couture portraying bold, confident female heroines and villainesses.
If you thought diamonds were the best part, then saddle up — the fun is just getting started.
Let's talk fashion… and see how it all fits together this season!
The 2019 Resort, Spring/Summer and Fall runways have been loaded with exotic animal prints, no longer reserved for Fall. Luxurious and colorful snakeskins and leopard are mainstays, in natural tones as well as vibrantly colored interpretations.
Silhouettes are accentuated with a bounty of ruffles in all sizes from micro to Alice in Wonderland chic. For the single-color devotee, dominant colors this year are pink and goldenrod. But we never turn down an opportunity to wear all black either.
Sequins, gems, and beaded garments have transcended all restrictions, for those who can't get enough of this currency. Hair and makeup, shoes and bags are all accessorized with texture.
This year's throwbacks harken to '70s influences including color blocking, pastels, tie-dye, mod jewelry including big hoops. If any of our gala-goes were fortunate enough to boogie through life in the '70s, (you don't look a day over 25), feel free to whip out any of your past garments and give them the appreciation they deserve!
And then there are diamonds - which never go out of style, but this year they have eclipsed everything that lies beneath. If the promenade of diamonds on Oscar night was not enough to convince you that this is the year of the diamond, then try wearing nothing but diamonds, and see if anyone notices.
When it comes to makeup, focus on the hair and eyes. Tamed flowing manes parted in the center or radically short hair can both achieve a strikingly feminine aura, while exotic colorful, cat-like eye brings out the wonder of your own personality.
Only one thing is certain, diamonds are forever... and ever.
The bottom line: Just have fun with it—we already know you're fabulous! We can't wait to see you and your outfits from the preparty at The Chanler to Diamonds Are Forever on Friday, August 2.
Cheers to that! -Berkeley Combs, Style Consultant