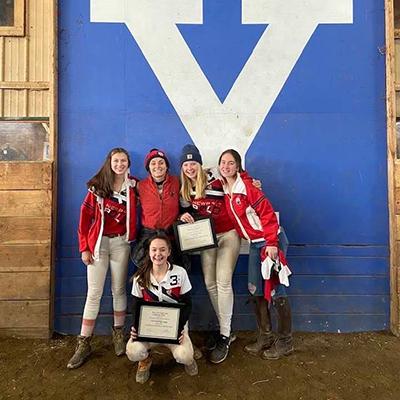 Newport Polo's High School Girl's Team competed in the USPA Northeast Interscholastic Regionals on Feb. 21-23 at Yale University. Teams from Boston, Yale, Garndertown, and Cornell took part in the three-day tournament to earn a place in the national championship. Newport took third overall, and individual player achievements including Tournament All-Star awarded to Hannah Stowe and Horsemanship Award presented to Catie Reed. Team practices will continue through the summer in preparation for the 2020/2021 season. New players recently got a leg up to join the team in the Winter Teen Intro Clinics. Open enrollment is available now for boys and girls in grades 8-12 to join Newport Polo's Open and Girl's teams. No experience required.
Brown University Women traveled to Canada on Feb 14 -16 for the USPA Northeast Intercollegiate Preliminaries hosted by the Buffalo Polo Club. Brown made the best showing in the team's history, winning the first-round over Yale. Then, Brown was defeated in the final round by the home team, University of Guelph. Individual achievement, Tournament All-Star, was awarded Brown member Mia Purdom.
Weekly lessons for new and experienced players, club chukkers, and tournaments continue at Newport Polo's Winter Indoor Training Center. Coming up, the St. Paddy's Cup pot of gold is on the line as players warm-up for the grass season. Intro Clinics will continue for first time players and riders to get in the game. Arena polo will return to Newport Polo's Outdoor Training Center in Portsmouth this April, highlighted by the USPA Northeast Circuit Amateur Cup. Grass polo resumes in May for club members and guests to condition for upcoming tournaments and the Saturday matches of the Newport International Polo Series.
Newport Polo has taught hundreds of students over the past 25 years, from Teens to Retirees, through weekly lessons, coaching chukkers, and player seminars, that introduce first-timers and help advanced players hone their game. Instructors are certified by the United States Polo Association, with well-trained mounts and professional equipment provided for new players. Testaments to the program's success include participants that have graduated to win regional and national titles in the U.S. and participate in some of the most prestigious polo events around the world, as well as at home in the Newport International Polo Series. Visit Play Polo to learn more.