Meet the Ponies
Meet the Ponies
Newport Polo's lesson program will introduce polo students to a string of polo ponies that regularly play in the Newport International Polo Series. These ponies are thoroughbred horses that have been trained to play polo, and can adapt to each player's level of skill, from beginner to advanced.
Persia
Persia came to us as a 4 year old off the race track at Suffolk Downs in Boston. As a strong willed, natural athlete, Persia took quickly to polo training and showed great tranquility and temperance at the start. It was not until her second year of training under Minnie that Persia's hot headed, firey personality developed. With a remarkably calm first year , it was said by few that she would never be more than a quiet school horse. But now, after discovering her own hot throuroughbred competivity she has become so much more. Her incredible intensity secures Persia's reign as one of the top 3 polo ponies in the Newport string, very far from a simple school horse.
Talula
Skyfall
Raton
Popi
Jack
Gatsby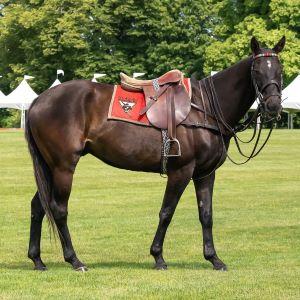 Gatsby is thouroughbred from Suffolk Downs race track in Boston. Even at the age of 4 Gatsby always had a flawlessly impressive nack for Equitation. Agreeably by all to be the best "riding" horse in the Newport string, with talent for jumping, swimming, trail riding, dressage, and English disciplines; The Great Gatsby still stands as an acquired taste and advanced mount on the polo field. His elegant stride combined with his occasional air catching leaps, make him an alluring double edged sword in the game. Played usually only by his trainer Minnie, he also meets the field to play under owner Dan Keating or club professional Rory Torrey, and can always be counted on as a kind and lovely umpire mount. Gatsby prefers a quiet and patient player but strong rider, whom he trusts for a brilliant and spectacular performance.
Romeo
Romeo originally came to Newport Polo as a stallion from the racetrack. He's a chestnut thoroughbred gelding with a white blaze, white feet and a white 'slap' on his right cheek!  He still flirts shamelessly.
Pepper
Pepper is 15 years old, off the track American thoroughbred, from Pen National racetrack in Pennsylvania. She was 3 years old when she hopped off the trailer at our doorstep and was considered an "easy make" in terms of her willingness to be trained for polo with outstanding natural talent. She began playing in the international series at the age of 5. 10 years of playing and numerous best playing pony awards seems only fitting for a horse like Pepper; who got her Spice themed name after our oldest and most revered horse, Ginger- the queen of Newport Polo (31years young).
Sugar
Sugar is a salty 12 year old with a 14 year old little girl attitude. She has been playing in the international series for 7 years and is a definite game changing horse. Even with her sassy pony attitude and slight nepoleon complex (she is our smallest horse) she has been complimented by many players across the globe as the best horse they have ever played. She is the first horse I trained myself, as she suffered from 2 near death stomach impactions that left her frail and in need of a small light rider. She was an incredible first project, definitely taking on some of my teenage back talk and angsty resistance to authority during the time of OUR training, but is definitely a crowd and player pleaser always dominating with her remarkable agility and race car-like handle, she always leaves the others in dust.
Ginger
This bay thoroughbred mare's career has been a story of comebacks. Unsuccessful on the track, she was deemed 'un-rideable'. She sustained a broken leg that took 2 years of patience to overcome. She has subsequently been named Best Playing Pony more than any other horse in the club.
Her name, those fleet white feet & blaze, and human eyes are instantly recognized by players internationally. Ginger has taught most of the Newport Polo Club's members to play the game of kings. She herself is nothing less than a queen, not only as an alpha mare of the herd but also on the polo field, showing great heart and competitive spirit.  Ginger has long mastered the game of polo, and though a female of her vintage never discusses age, she is nearing the end of her playing seasons but one would never know it by the way she still plays.
Negrita
Negrita is one of the quickest studies that we've come across among racehorses that retire from the track and are given the chance at a new career in polo.  This dark brown thoroughbred was not only noteworthy in her physical development at an early age, but she also learned to play polo within 9 months.  Now in her 2nd season of competitive polo, she is favored by new students as well as accomplished players for her calm nature and easy manner.
Missy
Missy is our jet brown thoroughbred southern belle, who journeyed north from Florida's high goal polo league last spring and has been a solid addition to the Saturday matches as well as lessons ever since her arrival. She's a quick turner with plenty of get-up-and-go!
Amarillo
Amarillo "Army"- is a 19 year old American Thoroughbred off the track in Texas. She came to us from a racetrack near Amarillo, Texas but her militant nickname was given in part based off of dad's Boston accident, but mainly because she has a military level of intelligence and "secret ops" way of playing the game. Like a black panther stalking its prey she is cunning, highly intelligent, quick on her feet, silent, and deadly on both defense and attack. We have had her since she was 4 years old and has been playing in the international series for about 12 years. A veteran for sure, but she will never show her true age.
Cocoa
Miss Large-and-in-Charge, Coca won her 1st 'Best Playing Pony' title in 2014, playing for Scotland. This bay thoroughbred is a former racehorse from Suffolk Downs, and coming into her prime as a polo pony.
Pegasus
This dappled grey thoroughbred mare posted wins in her racing career before retiring to a life of polo a year ago. Spending more time in the air than on the ground, the name Pegasus befell her. A few threats of sending her down to rodeo, coupled with loads of patience brought her 'round. Her curious nature and eagerness for attention boosted her progress, for a brilliant breakout into chukkers by the end of last year's grass season! A minor injury led to some time off, and she will resume her training this spring when we expect to see her advance rapidly.
Arnold
Arnold (pronounced with an Austrian accent), a 6-year-old chestnut gelding joined Newport Polo after racing at Suffolk Downs, is mixing it up with the veteran string.  All who ride him say, "I'll be back"!
Zoillo
Zoillo is a popular choice among our students. Little do they know, this bay thoroughbred gelding from Argentina had a polo career in England in prestigious events including the Queen's Cup, and Gold Cup, along with playing in the French Deauville circuit before coming to the US. He debuted in the Newport International Polo Series in 2013 and became known for his easy handling and speed. Even though he's an international horse of mystery, Zoillo still stays true to his Argentine roots with a classic Gaucho name meaning 'Life'.