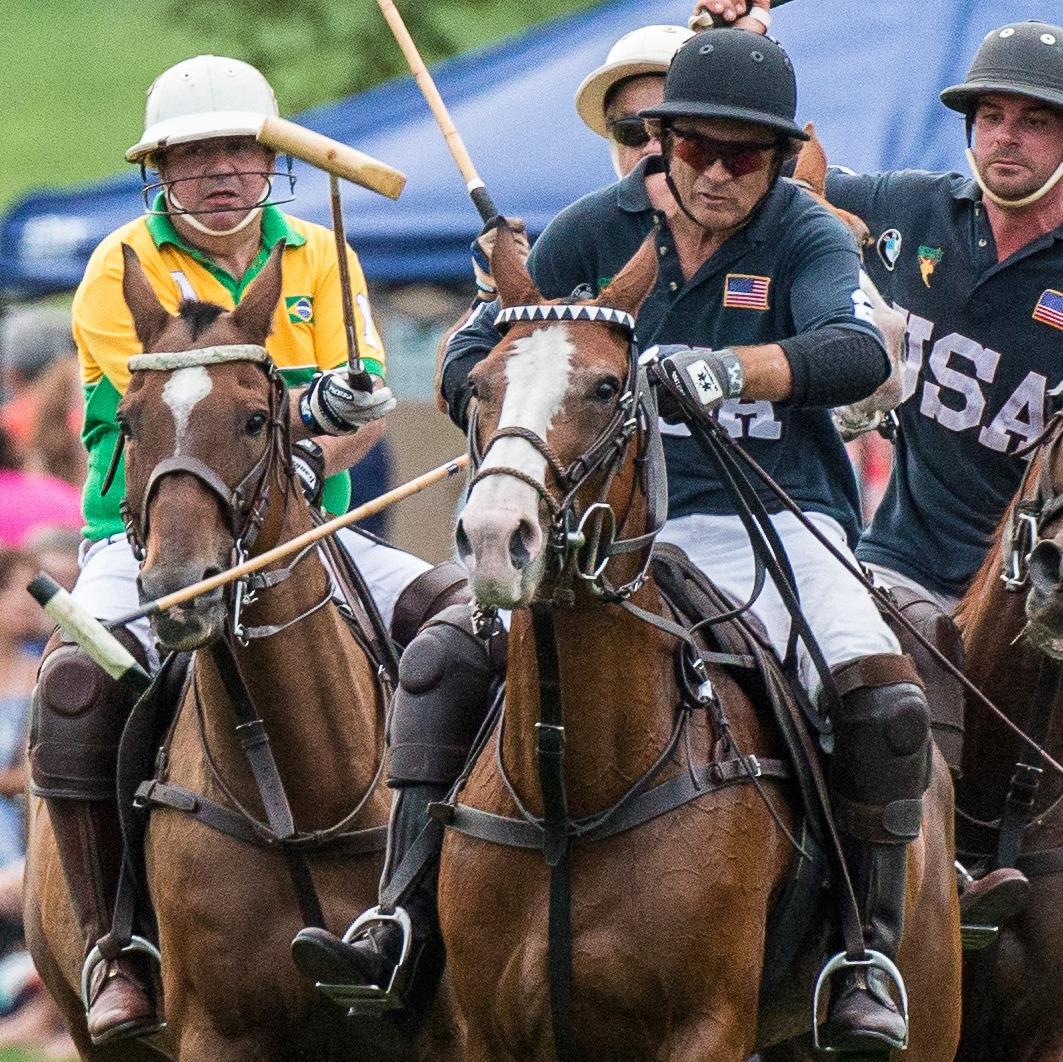 The celebrated return of Brazil to the Newport International Polo Series, Presented by your Rhode Island BMW Centers, gave USA its fourth victory of the season, and gave fans a full complement of festivities from parades to gala to polo match, lobsterbake and fireworks.
The Brazilian team, including #1 Joao Sampaio, #2 Ricardo Franco, #3 Luiz Matarazzo and #4 Marcello Junqueria, were guest of honor for Ball Carnaval, at Rosecliff on the eve of the match, Friday, August 7, as well as for the match and post-match festivities. USA's squad included Dan Keating at #1, Chip Steigler at #2, Rorey Torrey at #3 and John Wigdahl at #4.
Pre-match warm up included Rhode Island BMW test-drives from 1 – 4PM in latest models including X6 xDr50i; M4 &M6 Convertibles; 435xi Gran Coupe; and the all-electric i3.
USA was first on the scoreboard with a solo goal by Stiegler but Brazil showed its might with back-to-back goals by Franco and a stinger by Matarazzo for an ominous opening chukker, taking the lead 3-1. Keating led the seige in the second chukker with a pair of goals, and teammates Wigdahl, Stiegler and Torrey followed suit, blanking Brazil during the 7-minute period, for a commanding 6-3 lead. Franco answered with a goal in the 3rd period, but Keating and Wigdahl tagged up for two more points, as USA pulled further away with an 8-4 lead.
The second half witnessed increased defense, as each team held the other to only a point in the fourth chukker, by Matarazzo for Brazil and Stiegler for USA, for a 9-5 score. Similarly, the fifth period was heavy on defence, allowing only Wigdahl to score for USA and Sampaio for Brazil, as the tally increased to 10-6. There was a final surge by Brazil in the sixth period, starting with Sampaio, matched by a Penalty conversion courtesy of Wigdahl, but backed up by points from Matarazzo in a Penalty conversion and by Franco's field goal, but it was not enough to overcome the deficit before the final bell, handing the champagne-filled victory bowl to USA, with a score of 11-9.
A weekly door prize drawing of a pair of shoes from Rockport was awarded to one lucky winner, and the winners in Space 21 and 22 for Best Tailgate judging received a prize Tailgate Trunk from Stella Artois. Miss Newport, Emily Cortez, and McGrath Clambakes bakemaster, Myles Murray presented gifts & the perpetual silver '11 Liberty Bowl to the teams during the Veuve Clicquot Champagne Trophy Presentation, and the Best Playing Pony blanket was bestowed upon Coca, a chestnut mare owned by Dan Keating. Hundreds stayed on to feast on an authentic New England Lobsterbake dinner prepared by McGrath Clambakes.
For highlights or full-length videos of the match, visit our Youtube Channel. For photo albums, please visit our FB fan page, or the web pages of our photographers: Matthew J Atanian; Rod Harris; and Dana Bibeault.
During their visit, the Brazilian team enjoy America's Cup Charter sailing, paddle boarding - courtesy of Island Surf & Sport , tennis at the International Tennis Hall of Fame, helicopter tours with Bird's Eye View Helicoptour Tours, Newport Mansion tours and a team dinner at the one and only Clarke Cooke House for a truly memorable visit to the City by the Sea.
This is the 24th season of the NBC 10 Newport International Polo Series, presented by your Rhode Island BMW Centers, and sponsored by Alex and Ani, Atria Senior Living, Balfour Beatty Communities, Forty 1º North, Hyatt Regency Newport Hotel & Spa, Vanderbilt International Properties, Clarke Cooke House, Rockstar Limo, Veuve Clicquot, McGrath Clambakes, Newport Daily News, Rockport, Stella Artois, Pure Brazilian Coconut Water, Newport J House, Cox Communications, and promotional partners including The Preservation Society of Newport, Bird's Eye View Helicopter Tours, America's Cup Charters, International Tennis Hall of Fame, Island Surf and Sport, The Cocktail Guru, and Discover Newport.
"Our sponsors have been with us since the beginning. Without their support, the Series would not be as extensive as it is," explains Dan Keating, Polo Series founder.

Discover Polo! Watch it, Play it, Support it. Newport Polo hosts the Newport International Polo Series XXIII, and is the home of America's first polo club, est. in 1876, (a founding member of the United States Polo Association offering public exhibition matches, polo club member services for grass & arena polo, and polo instruction year-round. Information about Newport Polo's spectator events, polo lessons, and sponsorship can be found on these web pages, using the links including About Newport Polo.