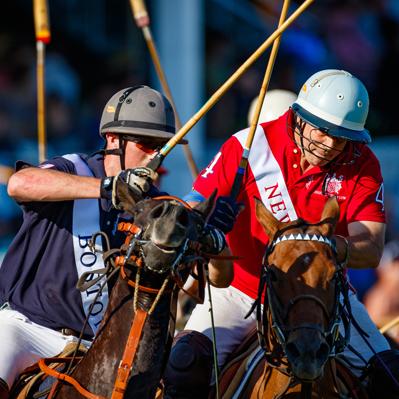 Edge of the seat action between the highly competitive Newport and Boston teams ended in a thrilling finish on Saturday, June 23rd, 2018, in the first City Series face-off of the NBC10 Newport International Polo Series 27, presented by BMW. Newport eventually pulled away in overtime to close out Boston 7-6, and hoist the perpetual trophy for the 6th time, sending their opponents back to The Hub empty-handed.
The national anthem followed the introduction of players. Wearing blue for Boston in the #1 position was Alison Poor, with Steven Burr at #2, Nick Snow at #3, and Whitney Ellis & Estani Puch alternating at #4.
Representing Newport in red was Sam Clemens in the #1 position, with Charlie Bullis at #2, Dan Keating at #3, and Rory Torrey at #4.
Bullis kicked off the first chukka with a goal for Newport to put his team up 1-0, but Poor immediately responded for Boston to end the first chukka in a 1-1 tie. A similar pattern met the teams in the second chukka, as Torrey gave Newport another one goal lead 2-1, but not for long, as Burr responded for Boston to end the second chukka in another tie 2-2. Boston began to pull away in the third chukka, as Burr and Snow gave their team a two-goal lead 4-2 to end the first half of the match.
Newport came out strong in the second half, as Bullis and Keating tied the match 4-4 in the fourth chukka. Bullis and Keating continued their charge with two more goals in the fifth chukka to put Newport in a two-goal lead, 6-4. Boston's Snow fired back at Newport's four-goal streak with two individual goals of his own, tying the match 6-6 at the end of the sixth chukka, which forced the teams into a sudden-death seventh chukka.
Only a few minutes into overtime, Torrey sealed a win for Newport with his second and game-winning goal to end the match.
During the match, a lucky man from Boston, Massachusetts won a magnum of Veuve Clicquot Champagne in the weekly door prize drawing. An extravagant tailgate party in space 74 wowed the judges by their decor for a celebratory wedding shower. The supporters dressed in their finest attire, and decorated their tent with streamers to celebrate their friends. The guests even brought a couch, table, and chairs to enjoy the exciting match from their tailgate party. Specialty vendors and concessionaires were present in the Hospitality village at the polo grounds, and included the Twisted Pony Cocktail Bar, Horseshoe Wine Bar, Newport Polo Pro Shop, Flint & Flame and gourmet food trucks.
After 7 chukkas, the match concluded with the Veuve Clicquot Champagne Toast & Trophy Presentation, as well as an autograph signing to meet the players. The Commnder J.B.L. Leavit perpetual cup was presented by Michelle Michaud, Marketing Manager of Brahmin.
Dating back more than 130 years in Newport, the polo matches are one of Newport's grandest & most popular traditions, a living legacy from the Gilded Age, and open to the public. Audiences of several thousand spectators enjoy the contests against international teams, as well as teams representing major US cities, playing against the home team every Sat, June thru Sept. at 5 PM / 4 PM in Sept.
Stay current with the 2018 team lineup, latest news, events and more through our e-Magazine, by subscription to our monthly Emagazine (sign up) and out Gameday Scorecard (sign up). Both subscriptions are private and spam free.
Info about the Polo Series, our venue, concessions & amenities, and other information can be found on the About Newport Polo page.
Season subscriptions to the Newport International Polo Series are available for individual lawn or Pavilion seating, reserved tables, corporate tailgates & VIP lounge tables to take in all 18 weeks of polo action.
This is the 27th season of Newport International Polo Series, which has hosted teams from over 30 nations including, Ireland, Germany, Spain, England, Argentina, France, Egypt, India, Australia, Costa Rica, Ghana, Canada, Chile, Jamaica, Nigeria, Portugal, New Zealand, Barbados, Scotland, South Africa, Hungary, Dominican Republic, Netherlands, Kenya, Brazil, China, Italy, Mexico, Sweden, Singapore, Monaco, Morocco, Peru and Poland.
Minutes from downtown Newport, the International Polo Grounds are located at historic Glen Farm, 250 Linden Lane (off of Rte. 138) in Portsmouth, RI. This bucolic setting is the last 100 acres of what was once a 700-acre manorial farm whose settlement dates back to the 1600's. Its classical stone barns from the Gilded Age and its park-like grounds were rehabilitated by polo series founder, Dan Keating, and thrive today as an equestrian & community recreational property, and home of the Polo Series.
The Newport International Polo Series is proud to present its 2018 sponsors including Gallo Thomas Insurance, NBC - 10, BMW Centers of Rhode Island, Modern Luxury Boston, Grace Hotels, Gurney's Newport Resort & Marina, Hotel Viking, Vanderbilt International Properties, The Chanler at Cliffwalk, Veuve Clicquot Champagne, Brahmin, Clarke Cooke House, Flint & Flame, Rockstar Limo, Stella Artois, Newport Daily News, Where Boston, Atria Senior Living, Goslings Rum, The Hermitage Club and promotional partners including International Tennis Hall of Fame, America's Cup Charters, Newport Helicopter Tours, The Cocktail Guru, Newport Mansions, Island Surf and Sport, McGrath Clambakes and Scooter World. "Our sponsors have been with us since the beginning. Without their support, the Series would not be as extensive as it is," explains Dan Keating, Polo Series founder.
There's no sport like polo. Be a part of it! Newport Polo hosts the Newport International Polo Series XXVII, and is the home of America's first polo club, est. in 1876, offering public exhibition matches, polo club member services for grass & arena polo, and polo instruction year-round; founding member of the United States Polo Association.